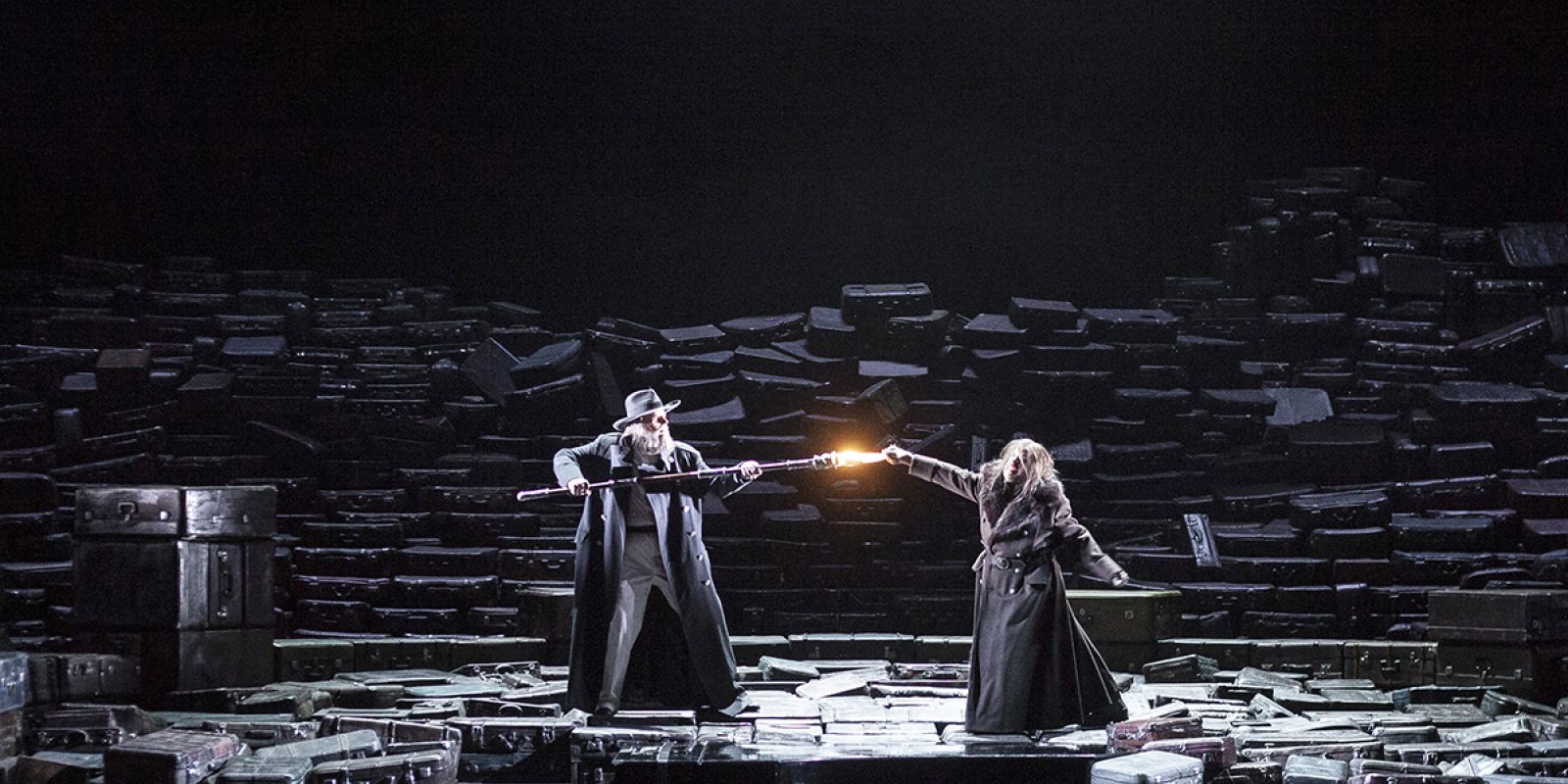 Welcome to our discography
With our DVD productions we stop time. We preserve the moments of an opera performance that are as fascinating as they are fleeting: the earliest complete recording on DVD is DON GIOVANNI from 1961, the most recent Wagner's DER RING DES NIBELUNGEN, which was released on 11 November 2022. The focus has shifted considerably in these 60 years: Whereas in the past mainly popular works were recorded, today there is a special focus on rarely performed works such as Czernowin's HEART CHAMBER or Korngold's WUNDER DER HELIANE. Our discography is like a journey through time: You will encounter great voices such as Dietrich Fischer-Dieskau, Renata Tebaldi or René Kollo - and different directorial styles and recording techniques, from the austere black-and-white of the early years to the technically sophisticated high-end production of today: so you can celebrate premieres with us at home any time!
Editorial
The discography of Deutsche Oper Berlin includes over 200 CDs and DVDs and takes you on a journey through time encompassing over 100 years of the history of the opera house on Berlin's Bismarckstrasse. You will find live recordings as well as studio recordings. Many of the live recordings were originally produced by radio or (in later times) TV stations, the studio recordings were produced in sound- and film studios in Berlin. Eduard Möricke, Ignatz Waghalter and the composer and conductor Hans Pfitzner marks the starting point of the recording series. Since then, the composer Pfitzner has been followed by conductors such as Ferenc Fricsay, Karl Böhm, Eugen Jochum, Heinrich Hollreiser, Lorin Maazel, Kent Nagano, Christian Thielemann and Donald Runnicles. It is impossible to mention all the soloists who appear on the recordings. To name a few: Among the female singers are Erna Berger, Elisabeth Schwarzkopf, Kirsten Flagstad, Birgit Nilsson, Elisabeth Grümmer, Pilar Lorengar, Christa Ludwig, Gwyneth Jones, Lucia Aliberti, Anna Netrebko and Angela Gheorghiu, male singers include Josef Greindl, Hans Hotter, Hermann Prey, Piero Cappuccilli, Renato Bruson, Fritz Wunderlich, James King, René Kollo, Peter Seiffert, Neil Shicoff, Placido Domingo, Rolando Villazon and Roberto Alagna.
The baritone Dietrich Fischer-Dieskau plays a special role in the discography of the Deutsche Oper as he appears more often than any other artist. His first appearance as Rodrigo in the live recording of Giuseppe Verdi's DON CARLOS from November 28 1948, was produced when he was only 23 years old and had just joined the ensemble of the Städtische Oper under the direction of Ferenc Fricsay which initiated the beginning of his international career. Among the directors whose productions are available on DVD are Carl Ebert, Gustav Rudolf Sellner, Günther Rennert, Luca Ronconi, Herbert Wernicke, John Dew, Götz Friedrich, Kirsten Harms, Philipp Stölzl, Christof Loy, Rolando Villazón, Tobias Kratzer and Claus Guth. The list of other contributors ranges from pianist Wilhelm Kempff to presenters Vicco von Bülow (Loriot) and Max Raabe.
The recordings have been divided into various categories such as complete opera recordings, excerpts (highlights, singer portraits etc.) or concerts and chamber music.
All CDs and DVDs featured in the list are available via online stores, specialist music stores or in the »L&P« shop at Deutsche Oper Berlin. Due to the fast-paced developments in the music sector we kindly ask for your understanding should any of the recordings be temporarily out of stock.